I first met Rosemary Graham on the chat at the sadly now-defunct Readerville.com. She's both a lovely writer and a lovely person. I'm just thrilled to have her guest-posting this week as her newest novel, Stalker Girl, comes out! Her earlier books Thou Shalt Not Dump the Skater Dude and My Not-So-Terrible Time at the Hippie Hotel have been among the International Reading Association "Young Adults' Choices," the Chicago Public Library's "Best of the Best," and the New York Public Library's "Books for the Teen Age." And I've heard Stalker Girl is even better – and can't wait to read it myself! – Meg
Five years before publishing my first novel, I was deeply immersed in the so-called  "scholarly conversation" about Walt Whitman. To enter the academic conversation (i.e., get published & get tenure), you need to find a new angle on a subject about which thousands of books, articles and dissertations have already been written. While I knew full-well that my continued academic life depended on it, I was pursuing a question I actually cared about personally. "Where did Whitman, who loved men, get his ideas about female sexuality?"
By examining the medical and pornographic  literature available to him, I came to believe that Whitman had been inspired by the eighteenth-century pornographic novel, Fanny Hill. This was—and still is—a pretty bold idea and I still remember the moment I discovered it. I was sitting in the UC Irvine library (visiting my future husband, who was enrolled in the MFA program), in the first days after the Northridge earthquake, surrounded by studious UCI math nerds. The building was swaying from aftershocks and every once in a while we'd all look up, laugh nervously and get back to our work. Suddenly, I started to see similarities between this fictional autobiography of an 18th century prostitute and "Song of Myself."
Hey, busy math majors, I wanted to say, did you know that one of the greatest American poets cribbed from porn? Walt Whitman borrowed from Fanny Hill! No? You have an exam tomorrow? Okay.
I wrote up my theory and had it accepted for publication in ELH, English Literary History. Published by Johns Hopkins University Press, ELH is considered top-notch. It was a perfect venue from which to rock the Whitman world.
Hah. The response to my radical suggestion was silence. Literally. While my article has since been cited in more articles, and listed in Whitman and Fanny Hill bibliographies, I never heard a word from a single established Whitman scholar.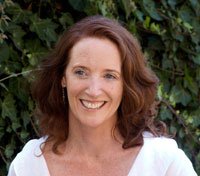 Of course it doesn't really happen that way in scholarship. If I wanted recognition, I'd have to go out and work it, present at conferences, hob-hob. But I had never liked the conference scene. Old men in tweed exchanging scornful glances at the eager young men and women in jeans and t-shirts.
It turned out that for me, the pursuit of the question and the ah-hah moment in the swaying UCI library were enough. I felt I'd gotten very close to Whitman the writer, that I'd discovered something about the act of creating this amazing poem he gave the world.  He'd probably bought a cheap pirated copy of Fanny Hill on the streets of Brooklyn or Manhattan. The part where a plucky prostitute named Harriet describes her first sexual experience on the banks of a river one summer afternoon must have stayed with him, because a very similar scene, echoing words and images from Max Cleland's novel, appears in his greatest work. Cool. (If you're dying to know the details, I still have most of the 50 off-prints I optimistically ordered when the piece came out. Just ask, and I will send.)
That article did the professional work I needed it to do. It got me tenure in June of 1997. A month after that, I got married and by the end of that summer, I was pregnant. After my daughter was born, I found I was done with scholarship. But wanted, very much, to write. I started writing memoir and personal essays and had some success publishing them—in The Santa Monica Review and The San Francisco Chronicle. When I started work on the project that became My Not-So-Terrible Time at the Hippie Hotel, I had no intention of writing fiction or even a whole book. I thought I was writing a personal essay about a long-ago summer. When I was twelve years old, my brother, sister and I spent two weeks during the summer with our father at hotel on Cape Cod that was set up for divorced parents and their children. Can you imagine a worse idea for a vacation? I started trying to write about my actually kind-of-terrible time at that place but found myself less interested in my own experiences than in the fictional possibilities of that situation.
I decided to turn it into a novel for teenagers. It's strange to think back at that time. On the surface it was quite possibly the worst time to try to become a novelist. I was a new mother, I was running the Composition Program at Saint Mary's, I didn't have any truly "free" time. Paradoxically, writing was the only time I felt truly free. That novel was the one place that was just mine. – Rosemary