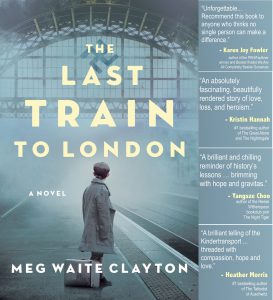 So much great news to share on my forthcoming novel,  The Last Train to London, to be published by HarperCollins September 10, but let me start by saying Harper is offering FIFTY (50) galleys, which are pre-publication paperbacks, HERE. We just sold Bulgarian rights, which I'm particularly jazzed about, because one of my sis-in-laws is from Bulgaria — so that means her mom can read. I'm nearly as excited about this as I am about the Hebrew version (sold at auction, which means a lot to this raised-Catholic girl in Chicago writing about this particular moment in history) and Dutch (because the real-life heroic woman on whom the novel is based is from the Netherlands). Anyway, that's 19 editions in 18 languages!
I'll be handing out some copies of the hardcover in August to my Readers' Circle, which you can join HERE,.
Some nice things folks are saying about it:
"An absolutely fascinating, beautifully rendered story of love, loss, and heroism … a glowing portrait of women rising up against impossible odds." — Kristin Hannah, #1 bestselling author of The Nightingale
"What a delight it was to read this brilliant telling of the Kindertransport, a novel threaded with compassion, hope and love."  – Heather Morris, #1 bestselling author of The Tattooist of Auschwitz
"A brilliant and chilling reminder of history's lessons … brimming with hope and gravitas." — Yangsze Choo, author of the Reese Witherspoon/Hello Sunshine Book Club Pick The Night Tiger
"Unforgettable … Recommend this book to anyone who thinks no single person can make a difference." — Karen Joy Fowler, author of the PEN/Faulkner winner and Booker Prize finalist We Are All Completely Beside Ourselves
We've also been getting some lovely praise from booksellers, who are recommending it for the IndieNext list, so fingers crossed for that. But here's a peek at a few I've seen:
"This novel is stunning – heartbreaking, powerful, beautiful and an absolute must read."
— Margie Scott Tucker, Books Inc.
"A heart pounding thriller that had me reading as if I did not know how the war ended." — Pamela Klinger-Horn, Excelsior Books
"A heart-pounding, tear-producing, thought-provoking, heart-breaking page-turner that will leave you asking 'what would you have done'?" – Kari Erpenbach, UMN Bookstore
More at https://megwaiteclayton.com/books/the-last-train-to-london/
Thanks for caring!
Meg