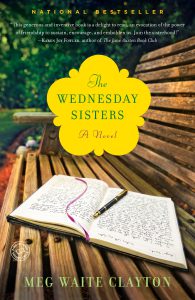 ORDER FROM:
Amazon
Barnes & Noble
IndieBound
The Wednesday Sisters Trailer:

• New York Times Bestseller
• USA Today Bestseller
• #1 Amazon Bestseller
• An Entertainment Weekly 25 Essential Best Friend Books
• Bookmovement Top 20 Book Club Pick for 2010
based on Readers' Choices
• The Target Bookmarked Selection for Summer 2009
– their #1 Recommendation for Book Clubs
• A Target Stores "Best of Book Club" for all time
Five literature-loving new neighbors form a writing circle during the turbulent 1960s, and with it a lifelong friendship that sustains them through love, loss, longing, infidelity and illness, failure, and success.
When five young mothers—Frankie, Linda, Kath, Ally, and Brett—first meet in a neighborhood park in the late 1960s, their conversations center on marriage, raising children, and a shared love of books. Then one evening, as they gather to watch the Miss America Pageant, Linda admits that she aspires to write a novel herself, and the Wednesday Sisters Writing Society is born. The five women slowly, and often reluctantly, start filling journals, sliding pages into typewriters, and sharing their work. In the process, they explore the changing world around them: the Vietnam War, the race to the moon, and a women's movement that challenges everything they believe about themselves. At the same time, the friends carry one another through more personal changes—ones brought about by infidelity, longing, illness, failure, and success. With one another's support and encouragement, they begin to embrace who they are and what they hope to become, as The Wednesday Sisters welcomes readers to experience, along with its heroines, the power of dreaming big.
"Meg Waite Clayton's stirring novel will appeal not just to those who secretly wish to be writers, but to anyone with a love of great books; anyone who has felt truly moved by a book or an author; and anyone who has had their dreams bolstered by good and faithful friends … You'll want to share THE WEDNESDAY SISTERS with anyone who believes in the power of a good book—to inspire those close to us, and for those who inspire."
— Bronwyn Miller, BookReporter
"… the perfect read for snuggling under the covers … What I loved most about these characters is how true their voices were—you will see yourself in at least one of them. The story is an uplifting testament to the power and inner strength of women." — Cassandra Zink, First for Women magazine's "First Picks"
"A heartwarming novel about the joys and complications of friendship, an inspiring story for anyone who has dared to dream big. "
— Michelle Richmond, author of The Year of Fog and No One You Know
"If you've ever had a best friend, buy a copy for her."
— Masha Hamilton, author of The Camel Bookmobile
"Readers will be swept up by this moving novel about female friendship and enthralled by the recounting of a pivotal year in American history as seen through these young women's eyes."
— Booklist
"This generous and inventive book is a delight to read, an evocation of the power of friendship to sustain, encourage, and embolden us. Join the sisterhood!"
— Karen Joy Fowler, author of The Jane Austen Book Club