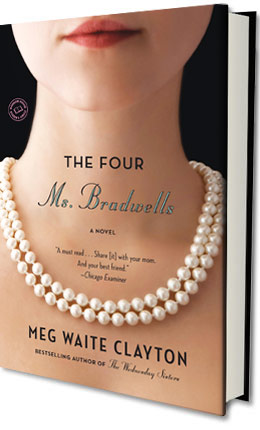 ORDER FROM:
Amazon
Barnes & Noble
IndieBound
A Ms. Magazine Great Read for Summer
A Literary Guild Book Club Fiction Pick
A Working Mother Magazine Summer Selection
A Mystery Guild Selection
A Pulpwood Queens Book Club Choice
An itunes Audiobook Bestseller
A page-turning novel that explores the secrets we keep, even from those closest to us, and celebrates the enduring power of friendship.
Mia, Laney, Betts, and Ginger have reunited to celebrate Bett's pending appointment to the Supreme Court. But when the Senate hearings uncover a deeply buried skeleton in the friends' collective closet, they retreat to a summer house on the Chesapeake Bay, where they find themselves reliving a much darker period in their past—one that stirs up secrets they've kept for, and from, one another, and could change their lives forever.
"Riveting." — Larry Cox, Tucson Citizen
"A Must Read … This is not just a story about a group of women, but also a story about generations, about relationships, about the fluid motion of relationships over lifetimes. It is about a coming of age in middle age, and about facing the questions we all must eventually face. … The Four Ms. Bradwells is [a book] I will always remember … This would be a good book to share with your Mom. And your best friend. This is a good book to read when you still have plans and dreams, and when you're coming to the realization of them – or not. And this is what sets this story apart; the very human characters, the very real description of what they are going through." — Bonnie Jean Adams, The Chicago Examiner
"The gals at the center of Clayton's satisfying third novel, The Four Ms. Bradwells, are strong characters we can relate to." — Rebecca Adler, More Magazine
"The quartet of smart, witty women in Meg Waite Clayton's new novel 'The Four Ms. Bradwells' meet in law school, but they get their real education many years later, when one of them is nominated to the U.S. Supreme Court and an old scandal flares up." — Julia Keller, The Chicago Tribune
"Think of what it means to say, 'Let me do this for you, this one small thing.' Then think of the rare person you care enough to say that to. Who would you bare your soul for? Who would you give up your dreams to protect? These women find the answers to these questions, and more … a wonderful look at the complexities of friendship, the bonds between mothers and daughters, and the intricate interrelationships women form." — Kate Ayres, BookReporter
"Highly recommend!" — Bethanne Patrick, The Book Maven, NY1 TV
"Deftly plotted and paced, the novel also shows the author's savvy sense for dialogue and the rhythms of longtime friendships … Clayton keeps the plot layered and intriguing." — Rebecca Wallace, The Palo Alto Weekly
"A stirring and compelling novel about women's changing roles." — Aleksandra Walker, Booklist
"Every reader searches for that perfect book: the one that gives you a giddy feeling of anticipation when you think of it waiting for you on your night table. The Four Ms. Bradwells, by bestselling author Meg Waite Clayton, succeeds so easily in meeting this mark that it's almost a crime to pick it up, knowing it will lead to the inevitable moment when your read the last word and must say goodbye to characters who have thrust themselves into your hearts … The Four Ms. Bradwells is a book that brings to light the meaning of loyalty and justice. Beyond the intelligent backdrop of four smart lawyers is the running dialogue of a group of friends who, like most people, are trying to make the most of their lives. Clayton's lyrical prose is as soothing as it is stimulating, resulting in a stunning work of art." — Woodbury Magazine
"a thriller of a whodunit, a tender love story among friends … when the story ends at a not-too-distant point in the future, there is a clear line of sight between the Court of Bradwell and Bradley and that of Ledbetter and Sotomayor … the mystery and tenderness? They are tremendous. And the brains — oh, the brains!" — Leah DuMouchel, AnnArbor.com
"Fans of Elizabeth Noble, Ann Hood, Elin Hilderbrand, and other luminaries of female friendship fiction will find much to captivate them." — Library Journal
"A great read for any woman … It invites the question: would you encourage your own daughter to follow in your footsteps — and why?" — Glen Ellyn Tribune
"The strength and love that stretches through three generations of women is endearing." — Romantic Times
"A compelling contemporary novel that questions the power of love, loyalty, and friendship." — Walnut Creek Magazine